When Michael Jackson died unexpectedly June 25, there were two points that summed up his obituary: He was a million-selling mega-superstar, and his personal life was sketchy at best.
Jackson's alleged criminal history found him under investigation for child abuse twice. A 1993 case was dropped without formal charges being filed, while a 2005 case resulted in Jackson being acquitted of all charges.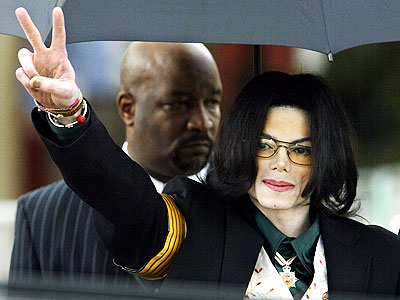 1993 Case
In 1993, the Santa Barbara County District Attorney's office began its investigation of Jackson following allegations of sexual abuse by Evan Chandler, the father of Jordan Chandler, a 13-year-old boy who Jackson had befriended.
Prior to the allegations, Jackson was rumored to be living with the Chandler family, and was close friends with Jordan, a fan he had met in 1992.
The District Attorney's office searched Jackson's Neverland Ranch, and the Jackson family's home, but was unable to turn up incriminating evidence.
Famously, the District Attorney's office examined Jackson in the nude, following testimony from Jordan Chandler about the appearance of his genitalia. While the description was allegedly similar, it was not close enough to be used as evidence.
Two days after the investigation, Jackson issued a statement by satellite from his Neverland Ranch, describing his disgust at the proceedings and the mass media, and affirming his innocence.
After having developed a drug addiction from the stress of the proceedings, and weary of the media, Jackson eventually settled out of court with the Chandler family. Unable to secure Jordan Chandler's testimony, the prosecution ceased its investigation without formally issuing any charges.
Bashir Documentary
The majority of Michael's fans, and America at large, believed Jackson's claims of innocence. However, his reputation was tarnished.
In 2002, British journalist Martin Bashir began filming a documentary, Living with Michael Jackson, that interviewed and followed Jackson around over a period of 8 months, from May 2002 to January 2003.
Airing in February 2003, the documentary immediately drew speculation and re-fanned the flames surrounding Jackson's relationship with children.
In particular, Michael was accompanied by a 13-year-old boy, Gavin Arvizo, throughout most of the film, and Jackson spoke about sharing his bed with Arvizo and other boys.
People vs. Jackson
Following the broadcast, Santa Barbara District Attorney Thomas Sneddon, the same man who investigated Jackson 10 years earlier, indicted Jackson and his aides on charges of conspiracy to commit child abduction, false imprisonment, and extortion.
In June, 2003, the Santa Barbara Sheriff's Department began its investigation of Jackson. In November, more than 70 members of the DA's office and Sheriff's department arrived at Neverland Ranch with a search warrant — the largest "raid" in American history that wasn't for a murderer of serial killer.
On November 20, Jackson flew from Las Vegas, where he was performing, to Santa Barbara for a voluntary arrest.
In a following press conference, Sneddon was quoted as saying "We got him. We finally got him," despite the fact that the investigation had only just begun, leading many the believe Sneddon had a vendetta against Jackson.
In 2004, Jackson was arraigned, and pleaded not guilty to the criminal charges against him (after which he hopped onto his car and began dancing for his fans). A grand jury unveiled the charges against Jackson and five co-conspirators, setting the stage for his jury trial.
Jury Trial
Jackson's jury trial began on February 28, 2005.
The judge allowed the prosecution to present evidence that Jackson had a habitual criminal mindset, with evidence from the 1993 investigation being submitted in addition to evidence from the current proceedings.
Both the prosecution and the criminal defense called a wide range of witnesses: five men who alleged that Jackson had abused them as boys testified for the prosecution; Jay Leno and Macaulay Caulkin, among others, testified for the defense.
Finally, after all the evidence was considered, the jury returned its verdict on June 13, 2005: not guilty on all 10 counts.
The investigation and trial lasted for 574 days.
Once again, although Jackson was never convicted of any crimes, the view of Jackson as an alleged criminal was one that could not be eliminated. In the years before his death, Jackson became increasingly reclusive, even moving to Bahrain. Jackson returned to the spotlight while planning a massive farewell tour before his death from cardiac arrest at age 50.